The History of Wireless Transmission
Imagine a world without wireless transmission?! life would be totally different right. You wouldn't have been able to send that text message to your friend this morning, submit that assignment last minute and watch that nail-biting sports game last night that went into overtime .Wireless transmission technology is pretty much an essential component to everything you use in your daily life television, radio, internet, telephones, and smartphones all of these are based off of and require some form of wireless technology.
Wireless transmission has a pretty interesting history with key figures who have made key discoveries up to this point. Who were they? And what did they find? And how did people communicate with each other over long distances back in the day?
People back then had to be a little creative especially when electricity and phones didn't really exist back then. Perhaps the earliest form of wireless transmission is the use of smoke signals in ancient China guardians of the great wall would ignite smoke signals to alert other towers of incoming attacks. Their smoke signals consisted of wolf feces, saltpeter and sulfur, smoke signals could be seen roughly 300 miles away allowing towers to be alerted within hours. Messenger pigeons or homing pigeons were also used homing pigeons were able to fly back to their homes over long distances and people took advantage of this skill by using them to deliver messages just strapped the message on to the pigeon and let them fly. One of the earliest uses of homing pigeons was in Baghdad back in 1150. Genghis Khan also depended on homing pigeons by sending a pigeon real egg posts across Asia and Europe, Bruder founder Paul Reuter used over forty-five pigeons back in 1860 to deliver news and stock prices between Brussels Belgium Aachen and Germany and Mr. Howdy's pigeon post service established in 1887 was known to be the first ever airmail service and they simply depended on homing pigeons commercial telegraph systems were also created and were in use well into the 1800s. Soon after Alexander Graham Bell created and patented his telephone he and his assistant Charles Sumner Tainter transmitted the first ever wireless telephone message through the photo phone in the year 1880.
The photo phone was pretty much able to transmit sound through light, unlike the telephone which used electricity. Bell and Tanner's accomplishment on wireless transmission was just the beginning, just prior to the photo phone James Clerk Maxwell developed a theory of electromagnetismin in 1873 and Heinrich Hertz was able to experimentally prove it and he discovered radio waves in 1886. He didn't think that radio waves could have any practical application but his discovery would soon serve as a crucial foundation from one of the most important inventions in wireless transmission technology. It is exactly clear who invented the radio first in 1891 Nikola Tesla was able to demonstrate a working wireless radio in a lecture and again to the public in st. Louis Missouri two years later. In 1896 Guillermo Marconi patented a wireless Telegraph he developed and in 1901 he became the first-ever person to successfully transmit a wireless signal across the Atlantic from a transmitter and pulled in Cornwall England to a receiver at Signal Hill in st. John's Newfoundland.
Radio technology was initially used to contact ships through Morse code and when people found it to be extremely useful during World War 1 to communicate with other forces especially during emergency situations it became a mainstay in people's everyday lives. As we turn to the 1920s people began creating all kinds of radio related things people were setting up broadcasting stations. The first ever commercial broadcast took place on November 2nd, 1920 by Pittsburgh's KDKA station it was election day and thanks to the radio people were able to hear the results of the presidential race before reading about it in the newspapers. The British Broadcasting Company made its first public broadcast in a London studio owned by Marconi in 1922 the Toronto Star began broadcasting through their own radio station the same year and became the first station to broadcast a hockey game called by the foster Hewitt a year later. In 1936 Canada's national broadcaster the CBC went on-air for the first time on radio. One of the problems radio faced was poor auto quality that resulted from the static and skywave interference, those issues were resolved in 1933 when Edwin Armstrong developed frequency modulation or FM which was able to provide better sound quality as compared to the amplitude modulation or AM.
Although the Great Depression had slowed down the development of FM radio broadcasters officially began using it in the 1940s. At first radio stations broadcasted between the 42 to 50 megahertz band before eventually moving up to the 88 to 108 megahertz band the one America is using today. This is partially due to David Sarnoff watching television to take off and he had the television used the lower frequencies. It is thanks to all of these developments that wireless transmission is pretty much a huge part of the Information Age today, there's many different kinds of it but here are some of the most common ones used: Satellites, are objects that are intentionally launched into Earth's orbit. Satellites can help facilitate a variety of services, television, radio, the internet and navigation like global positioning system or GPS. Cell towers establish a wireless connection with your phone so you can receive phone calls send text messages and access the Internet. There's Wi-Fi which allows people to wirelessly access the internet on mobile devices without the use of Ethernet or USB cables. There's Bluetooth which can wirelessly connect devices in a variety of ways mice keyboards and headphones can be connected to laptops and phones via bluetooth, and it can also facilitate file transfers between two devices, and there's even infrared which wirelessly transmits information through infrared radiation. When you point your remote at the TV you're pretty much using infrared to control it.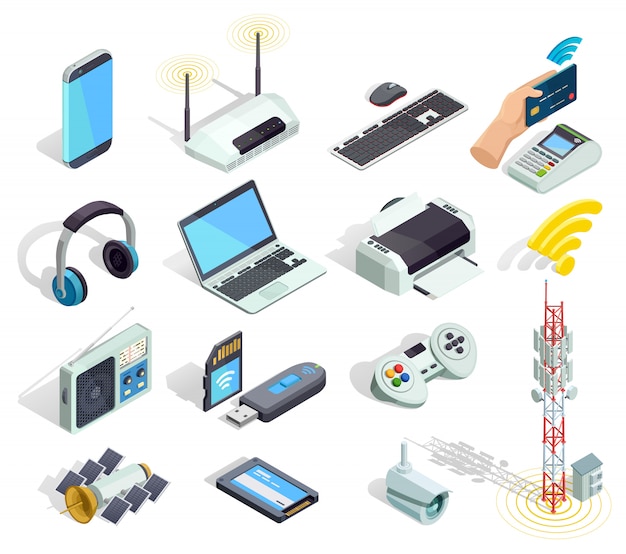 The biggest advantage that people think when it comes to wireless transmission is that it provides mobility, but the biggest drawback is that there can be interference between wireless connections. For example, most people have their Wi-Fi on a 2.4 gigahertz band but do you know what also operates there? Your microwave oven.. Just imagine you're in a tight multiplayer match and your connection starts stuttering or suddenly disconnects all because your roommate is hungry!. Satellite television can offer you a lot of high-definition channels, but when you're watching a closed sports game you better hope the skies are clear because severe weather can block your TV connection.
So it's pretty clear that we are so technologically dependent on wireless transmission especially since we're moving around a lot more. Although wireless connections are awesome it's also good to not forget wired connections as well so here's some advice whenever you're doing a demanding task like gaming or taking tests online it's better to use a wired mouse keyboard and internet connection or at least try using Wi-Fi on the 5 gigahertz band if no Ethernet plugs are around. 5 gigahertz Wi-Fi connections operate further away from other devices on 2.4 gigahertz band, so you're less likely to experience lag when your roommate wants to warm up their favorite instant noodles.
Source: Feed My Curiosity